Easy To Use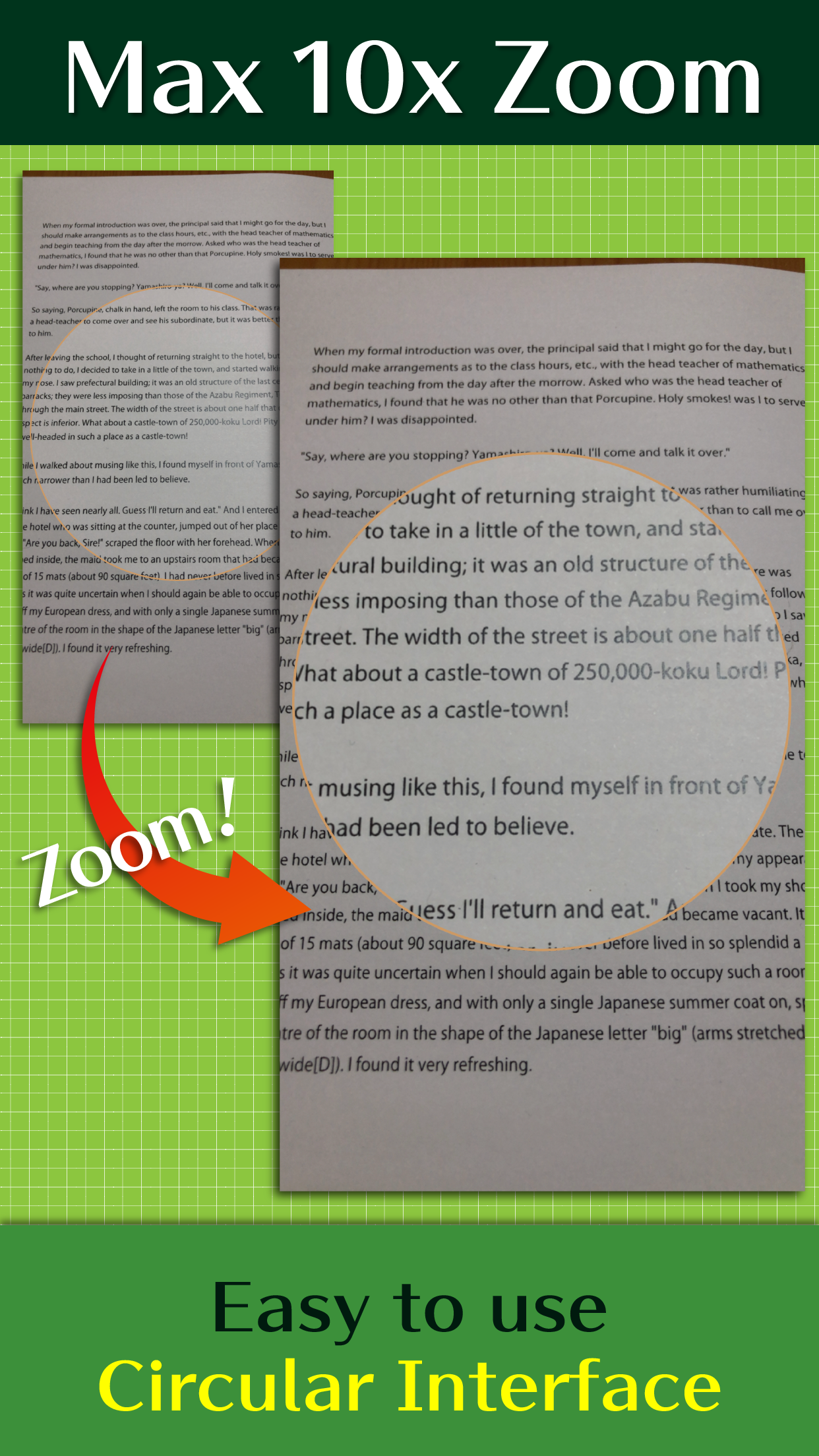 Magniscope is an easy to use digital magnifying glass.
There are no complicated settings. So you can use it with feeling like almost same as a real magnifying glass.
Inside of the circle is the magnified view. The view outside of the circle helps you comprehend where is magnified.
The interface is intuitive. You can move the circle freely. You can also pinch the circle to change the magnification from 1x to 10x.
Clear View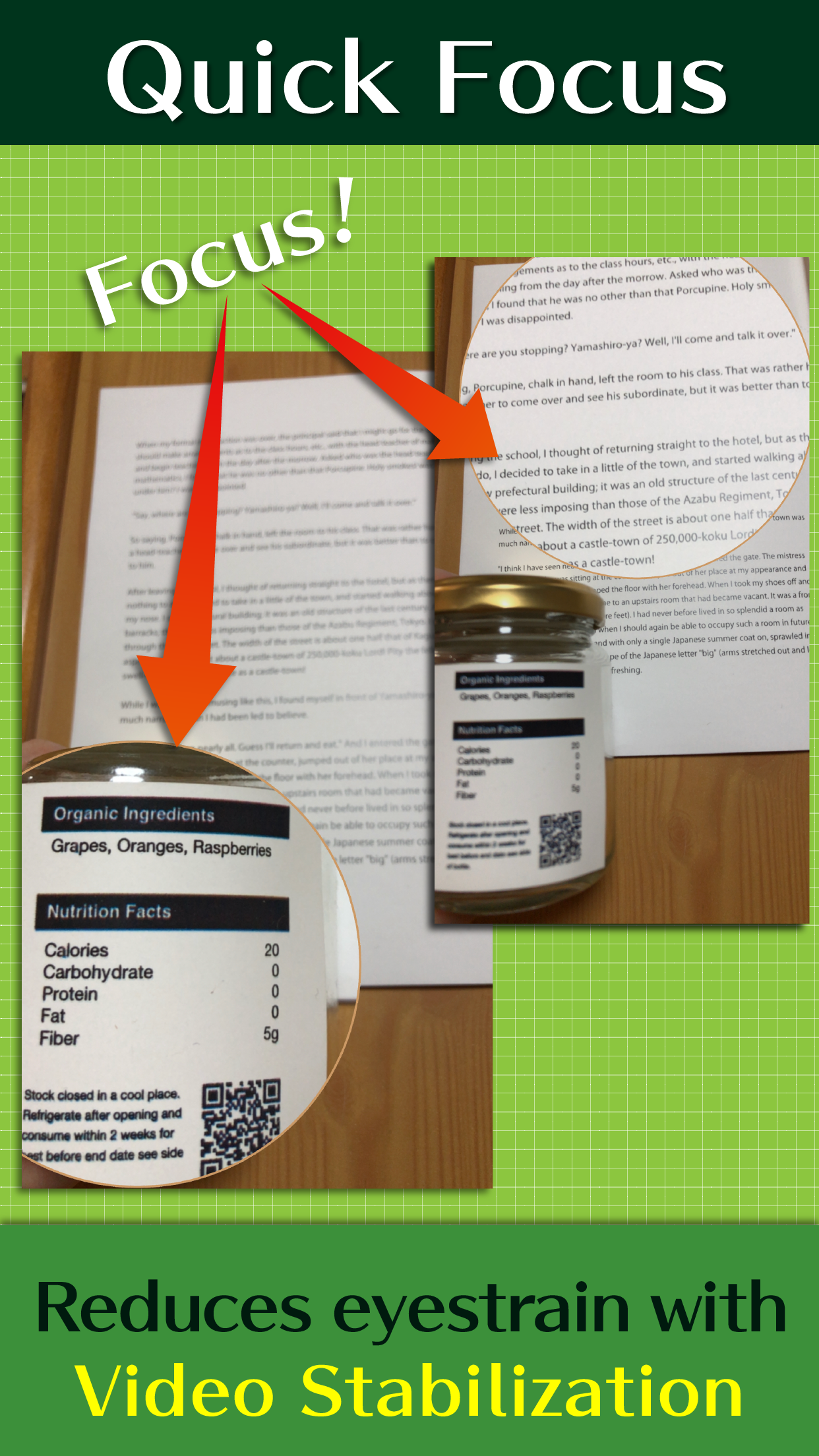 Magniscope helps you read.
Equipped with autofocus specially tuned for reading. Always it works to keep the focus on the center of the circle so that you can see clearly what you want to see.
If you feel it is not in focus, you can shake the device to reset the focus.
Video stabilization is another helpful feature of Magniscope. It reduces the blur associated with the motion of the device. It may reduce eyestrain.
In a Dark Place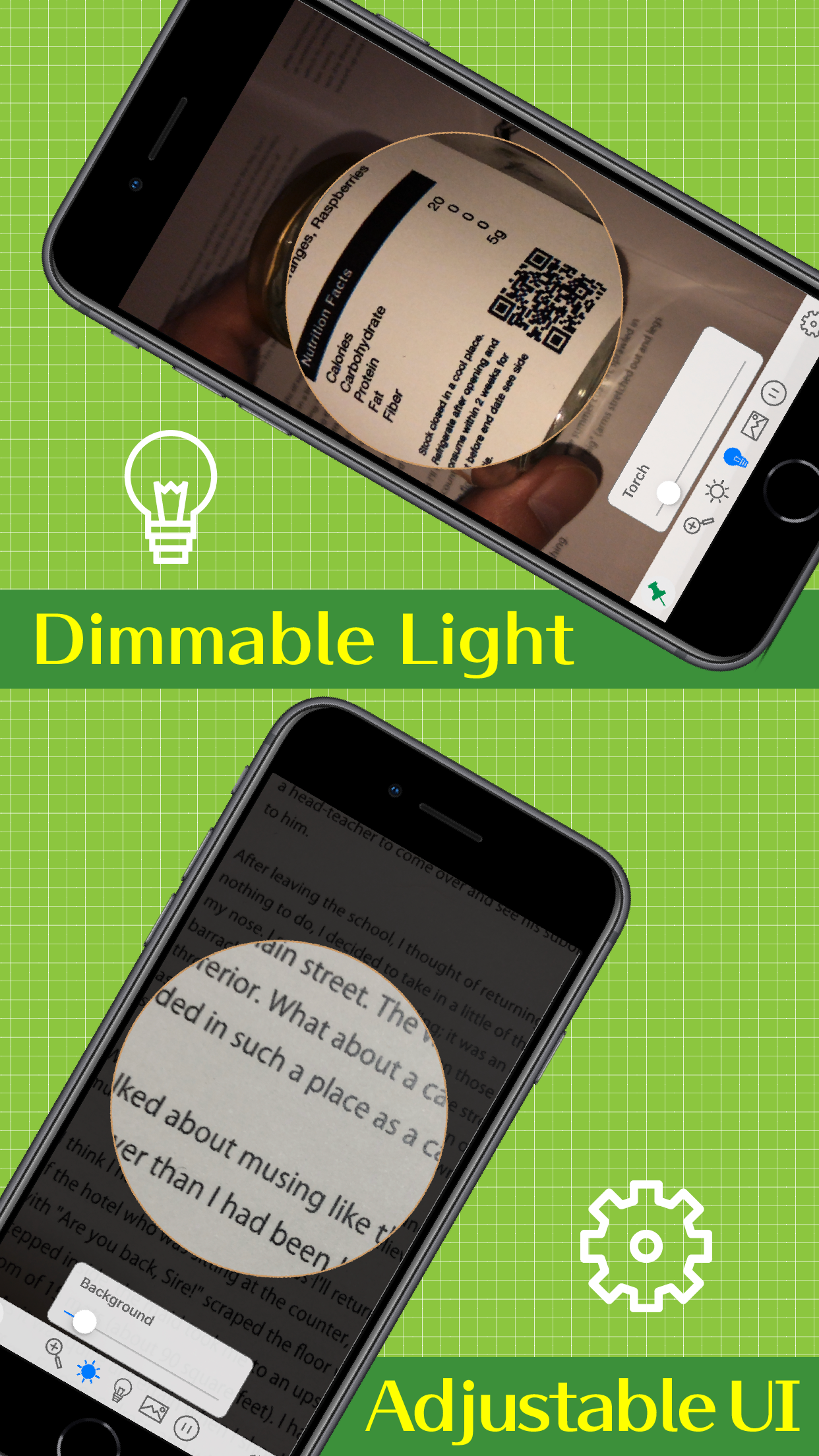 Torch light is available. It is dimmable with the slider interface.
More than Magnifying Glass
Display Filters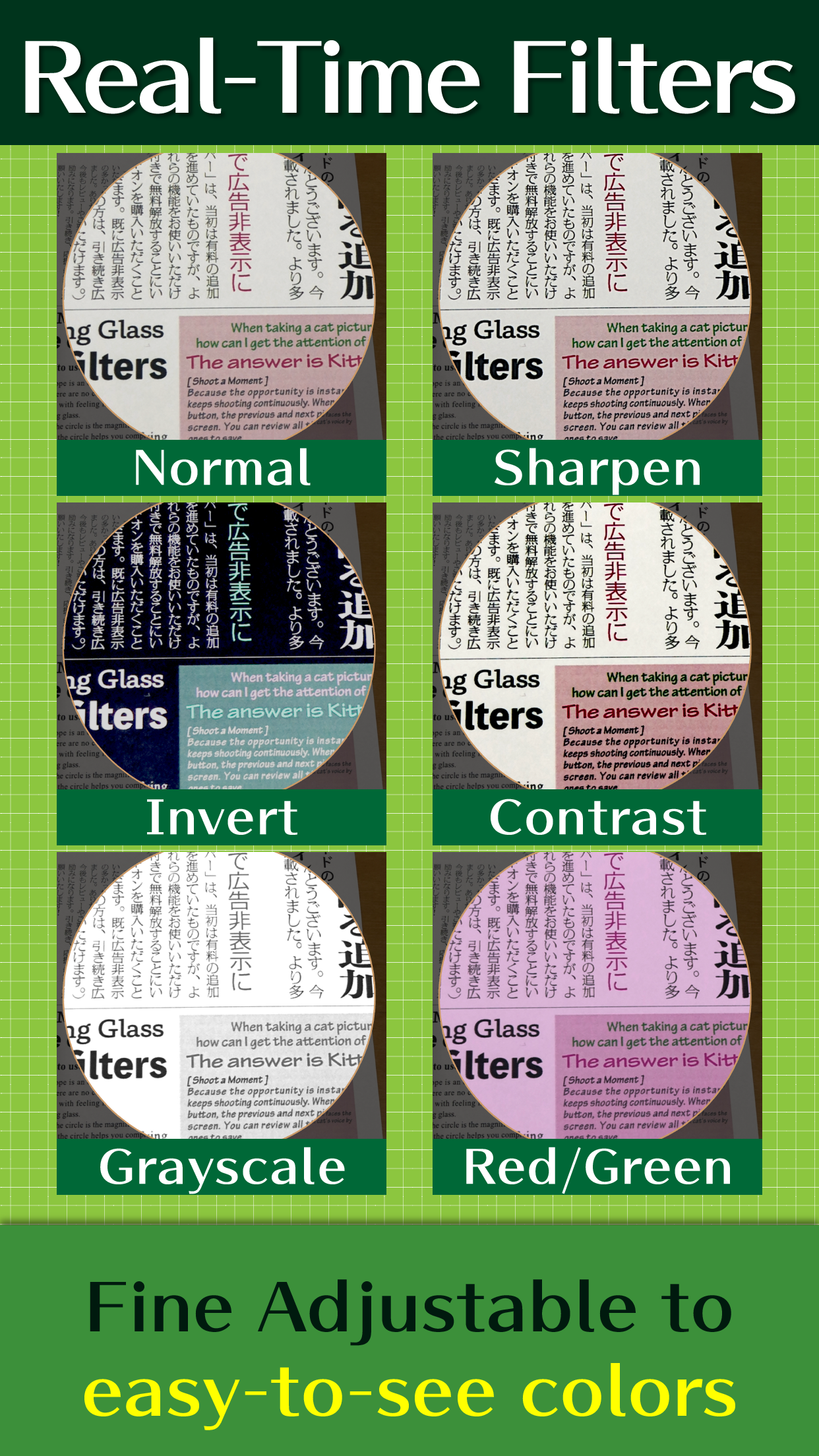 Magniscope has more features than real magnifying glass.
You can sharpen the image to make the text easier to read. Features such as contrast adjustment, monochrome display, etc. are also provided to assist in the easy viewing of colors.
Usage Tips
Real-time adjustment is possible with "PRO Tools". While checking on the actual screen, please find the setting that makes it easier to see.
Pause Mode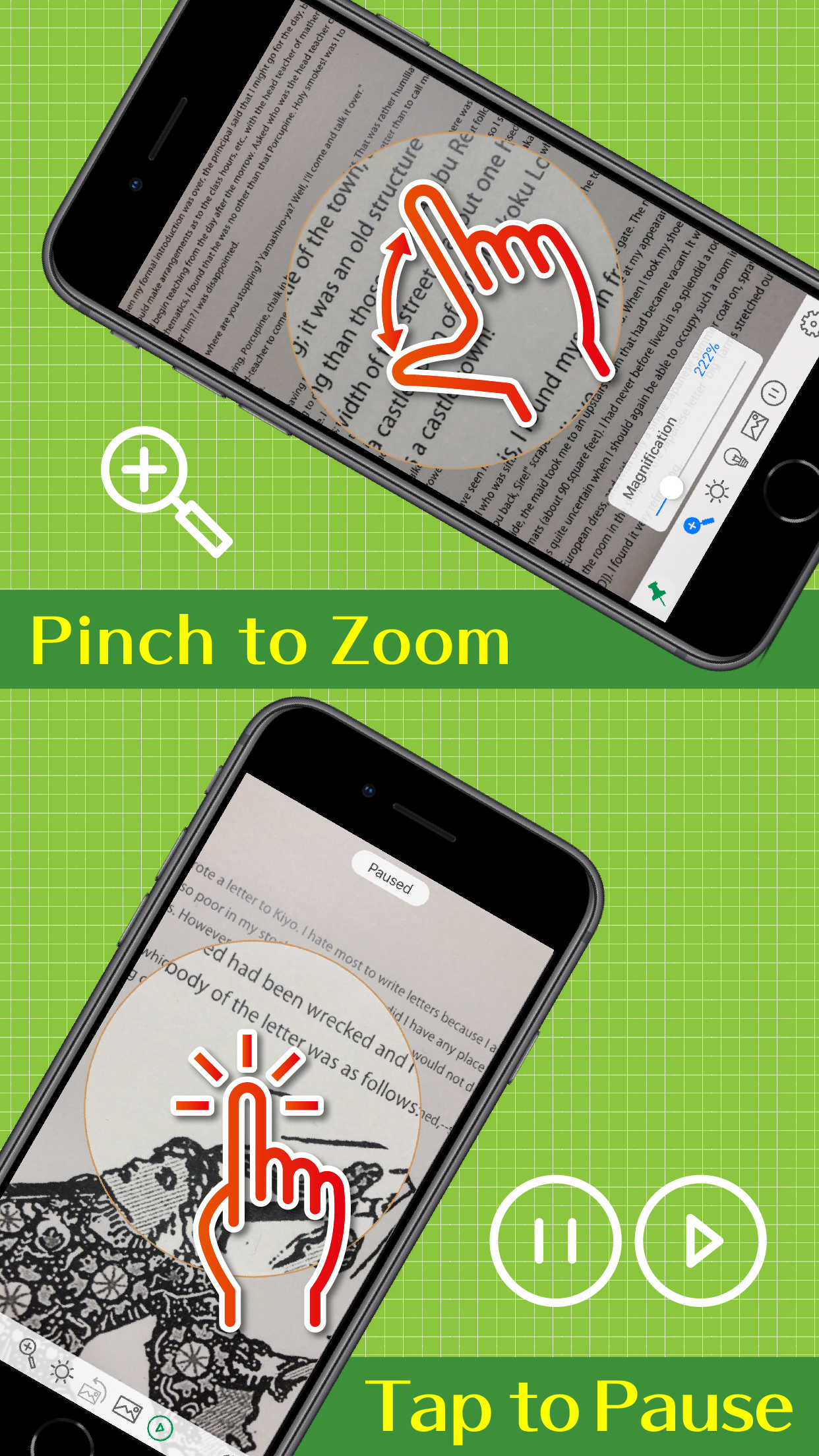 You can freeze the screen easily. Just touch the circle, the screen will be paused. Touch again to cancel the pause.
Usage Tips
Pausing feature is useful when you want to see newspapers, maps, pamphlets, etc. Pause the screen when the whole area you want to see is displayed. Then you can magnify any place with a finger, without moving the device.
Photo Mode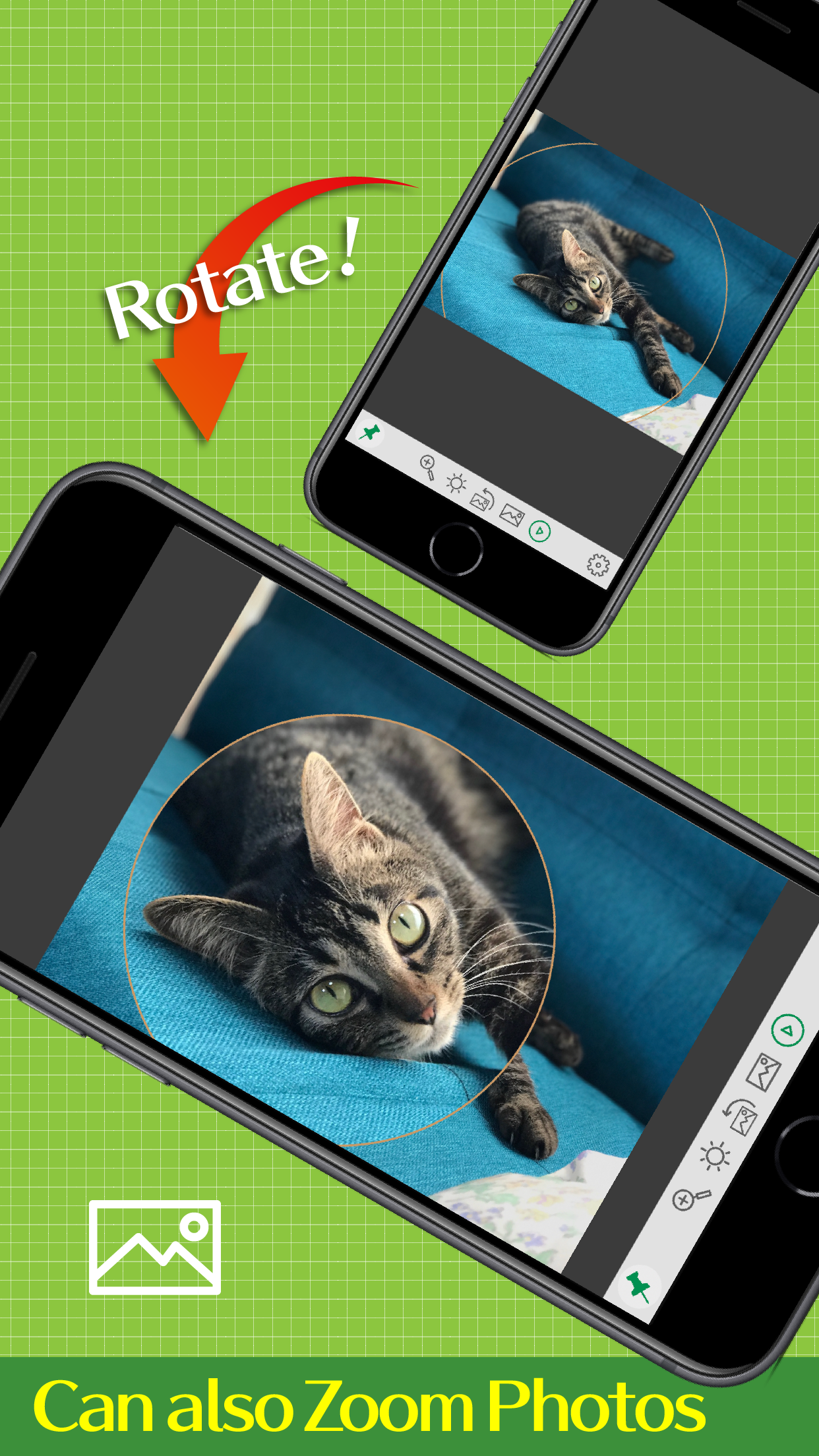 You can also load a photo from the photo library and display it on the screen.
Suitable for AirPlay
You can choose the interface orientation by setting. Portrait orientation is the default. Landscape orientation is suitable for transferring the screen with Screen Mirroring function of iOS. So you can see magnified images on a big screen via AirPlay if you use Apple TV.
Accessibility
Magniscope is compatible with VoiceOver.
To move the circle, select it and swipe three fingers. You can use the toolbar buttons to change magnification, to turn torch on, etc.
Compare Editions
Magniscope EX is a higher edition that includes all functions of Magniscope and has enhanced customizability.
Difference between Editions
| | | |
| --- | --- | --- |
| | Magniscope | Magniscope EX |
| All Functions of Magniscope | | |
| Magnifier style customization | Only size | Size, shape, and color |
| Ads | Shown | Never shown |
| Family Sharing | - | OK |
| Price | Free | Check on App Store |
The following features are available in both editions.
List of Features
Magnifying up to 10x.
Autofocus specially tuned for reading.
Continually adjusting exposure.
Video stabilization. (Shake reduction.)
Dimmable torch light. (*1)
Pausing the screen.
Magnifying the loaded photos.
Inverting the colors. (*2)
Adjusting saturation, brightness, and contrast. (*2)
Sharpening the image. (*2)
Displaying in grayscale. (*2)
Displaying in monochrome of arbitrary color. (*2)
Adjusting the balance between red and green. (*2)
High quality and intuitive user interface.
Suitable for AirPlay.
Compatible with VoiceOver.
(*1) Available on models equipped with flashlight. (iPhone and some iPad)
(*2) Available on models equipped with Apple A8 or later graphics hardware. (iPhone 6 or later, iPad Air 2 or later, and iPad mini 4 or later)
Buy Magniscope EX
Supports rounded screen of iPhone X.
Also supports iPad.
You can use Magniscope EX by one-time payment (no monthly subscription). And Family Sharing is possible.