The first screen you will see is the input screen. After launching Smile Diary, no further steps are needed to begin.
---
In Your Mood
Record your mood anytime anywhere.
To write an entry in your diary, just choose a smiley icon you like and push the button. Then Smile Diary passes your entry to the Calendar App.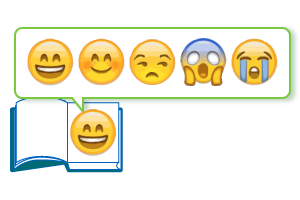 Optionally, you can write a short sentence (like a tweet) for each entry.
Whenever you come up with something, please open Smile Diary and write it down. Every sentence will appear as a past event on the Calendar App. And the entries will form your own diary soon.
Share on SNS
As Smile Diary supports Twitter, you can post your sentences as tweets. It is a very easy way to share your diary.
Be free from backup issue
Do you have an iCloud membership? If so, don't worry about data lost any more.
iCloud backups calendar events (including your diary data) automatically. If you use a Mac, all the entries in your diary will be synchronized with the iCal application on your Mac. If you have both iPhone and iPad, the entries on your iPhone will appear in the Calendar App on your iPad. Smile Diary supports both iPhone and iPad devices.
How To Use
How to Input
You can finish writing in your diary in two or three steps.
Tap smiley to choose the most suitable face for your mood.
Write an entry (optional).
Tap return key to record the entry.
How to Set